IKEA Presents The Dining Club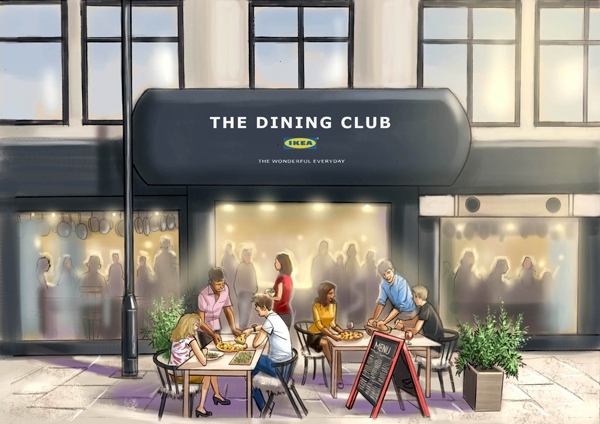 IKEA, the Swedish home furnishings retailer, are to open a DIY pop-up restaurant in London. From 10 -25 September 2016, the N&C showrooms on Shoreditch High Street will be transformed into a 'do-it-yourself' dining experience. The restaurant will enable customers the opportunity to host their own diner party with up to 20 guests. The so-called Dining Club will be completely free and you won't have to worry about the washing up!
Customers can book a slot to host a brunch, lunch or dinner party, with their friends/family. They will take over the restaurant, choosing from a range of modern sharing dishes to cook. After the entertainment of you and your 20 guests working together with a head chef to cook the meal, you will finally be able to dig your teeth into your very own delicious dish.
First of all, once you arrive, IKEA food experts will help you choose the menu for a three-course meal. There's a range of everything from ceviche to carpaccio, smoked fish to pork belly and white chocolate cheesecake or Rulltårta for dessert.
"The dining club is an exciting venture for IKEA which encompasses the sentiment that cooking together makes that everyday functional task of eating more enjoyable and adds wonder to our everyday lives at home," IKEA UK and Ireland country marketing manager, Laurent Tiersen said. "It's a natural progression from the cooks TVC and sits with a campaign we are labelling "It Starts With the Food", which is all about inspiring people to rediscover the joy of the kitchen, after our insights showed that people are spending less and less time cooking and eating together."
While you socialise with your group after the meal, the washing up will be taken care of.
Booking
Due to high demand the number of slots available will be limited. The experience is restricted to 3 slots per day during its run, opening at 10am and closing at 10pm.
For those customers without a booking, there will also be an IKEA shop with homewares for sale.
The Dining Club is located at…
N&C Showrooms
3-10 Shoreditch High Street
E1 6PG